Our Top Tips For Low Ceiling & Small Loft Conversions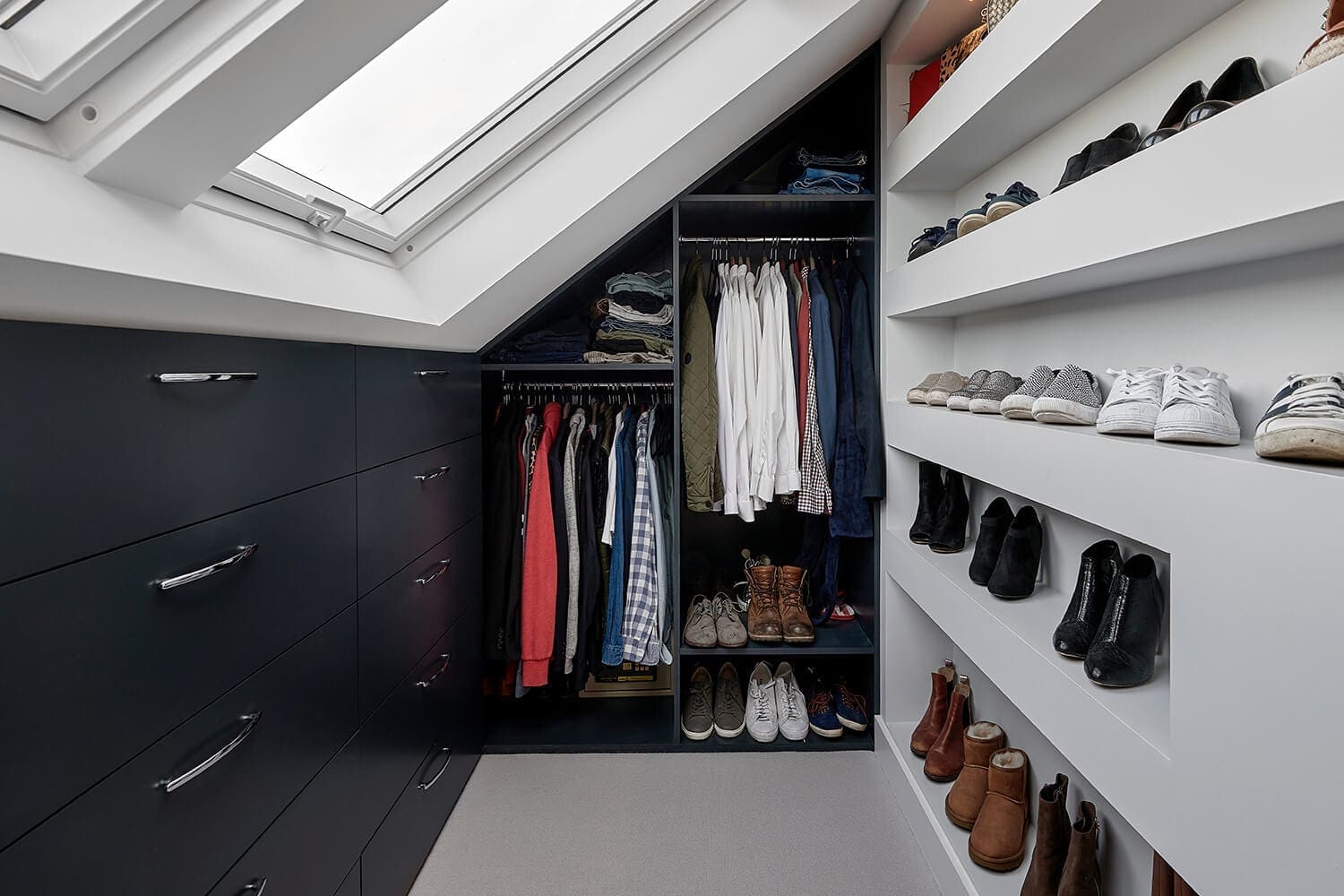 If you have a low ceiling in your loft or your loft space isn't the largest, you may wonder whether a loft conversion is possible for your home. In most cases, there are ways around a small loft or low ceiling for a loft conversion, but it also depends on the type of conversion and the specific limitations of the existing loft space.
What ceiling height is required for a loft conversion?
The average ceiling height in the UK is 2.4m (8ft) meaning the issue of a low ceiling doesn't apply to most. That said, there are still many properties that have lofts that fall below the minimum height for a loft conversion.
Building regulations for a loft conversion require a minimum ceiling height of 2.2m (7.2ft) to comply with health and safety standards. If your ceiling height in the loft space is less than this, it may not be possible to convert it into a living space.
However, it may still be possible to create a storage space, a play area or a small office in a loft with a low ceiling. In a lot of cases, 1.9m for a loft conversion is ample headroom if you're not using the converted area as a main living space. Roof light conversions are the most suitable type of conversion for lofts with limited headroom, as they do not require any structural changes to the roof. Installing roof lights can also help to create the illusion of a larger space and improve natural light.
Dormer conversions can also be designed to fit into a low ceiling space, but it may be necessary to reduce the size of the dormer window to comply with building regulations. This can reduce the amount of natural light in the space, so it is important to consider whether this is a suitable option for you.
Hip-to-gable conversions and mansard conversions are less suitable for lofts with low ceilings, as they require a significant amount of structural changes to the roof. These types of conversions are best suited for lofts with a higher ceiling height, as they provide maximum headroom and space.
Do I have enough floor space in my loft for a loft conversion?
If your existing floor space in your loft is small, it may still be possible to create a usable living space with a loft conversion. There isn't a set amount of floor space required under building regulations, so providing you have the required ceiling height for a loft conversion, there shouldn't be any issues converting your loft. However, the amount of floor space you have available will dictate what your loft can suitably be used for so would need considering.
Roof light loft conversions and dormer loft conversions are often the most suitable option for those with smaller lofts and in most cases require little to no structural changes to the loft.
Low ceiling and small attic room ideas
We find that most of our loft conversions are used to create an additional bedroom, with most larger lofts also adding an ensuite to their bedroom loft conversion. However, not all lofts have the space available to be converted into a bedroom space. Here are a few ideas for a loft conversion for smaller loft spaces.
Use your loft space as a play area
Create organised storage space in your loft
Design your loft conversion into a dressing room
Add a creative space within your loft conversion (eg. music or art studio)
Convert your loft into a gym/workout space
Create space for an additional bathroom in your loft
How to overcome issues for a loft conversion with low roof height
Although the average standard ceiling height in the UK is 2.4m (8ft), not all lofts meet the required head height of 2.2m (7.2ft) for a loft conversion. You may still be able to convert your loft into adequate living space however by raising the roof or lowering the ceiling height of the floor below where possible. Another option is to use thinner insulation to meet regulations if your loft is only slightly lacking the required height.
If raising the roof is necessary to allow for a low ceiling loft conversion, this is likely to require planning permission as it will alter the roof shape and structure. If raising the roof is something you think may be required, we'd recommend speaking to a loft conversion specialist to see how they can support with a low roof loft conversion, talk you through your options, and let you know if your loft is suitable for a loft conversion.
Summary
There are usually ways around converting smaller loft spaces or those with restricted head height, but it is always best to consult with a loft conversion expert who can assess the space and provide guidance on whether a loft conversion is possible and practical for your needs. They can also advise you on any planning permission or building regulations that may be required for your loft conversion project.
If you require any advice or simply want to discuss your loft room project, please don't hesitate to get in touch with our team here at The Loft Room for a chat or free quote.