A Smart Space: Optimising Your Loft Storage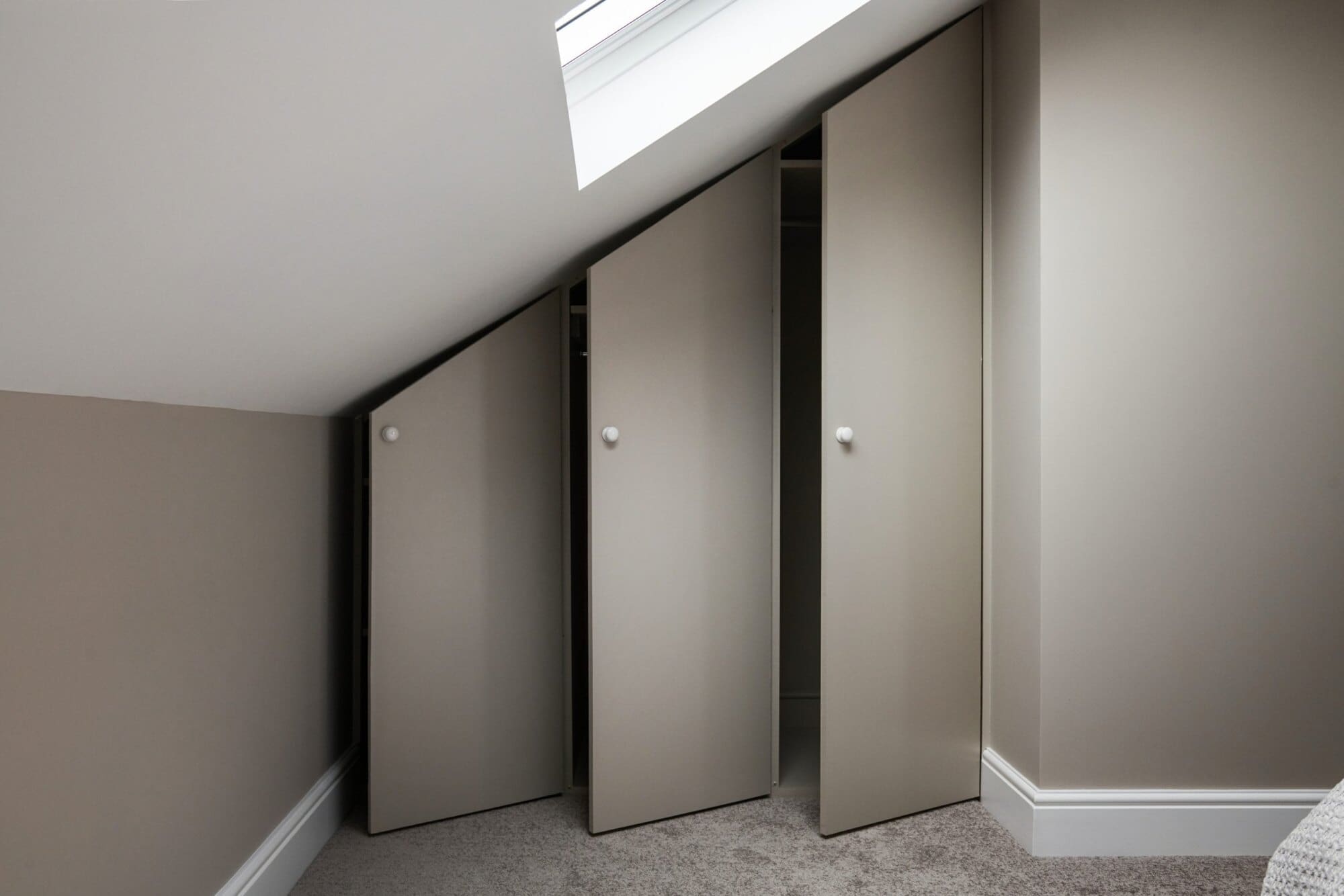 Clever Loft Storage Solutions
Loft conversions are an extremely versatile and cost-effective way to transform an existing property — rather than moving into a new one. Especially for homeowners in London, where extending outwards isn't often an option, working upwards is the best way to create more space and make the most of your home.
Far from being just an out-of-sight space to dump the Christmas decorations, your loft can make a stunning master suite, cosy guest bedroom, sophisticated home office or dream teen den. But where do you keep all those Christmas decorations once the loft room is gone?
If done right, your loft conversion can help to optimise storage space too — you just have to get creative. As lofts are usually small and angular, it can be difficult to find sufficient storage space for all your things. So, making the most of an attic conversion means embracing awkward spaces and utilising every nook and cranny to maximise space.
Looking for a bit of inspiration? We've put together our top tips for creating sleek space-enhancing features and unnoticeable yet clever loft conversion storage options which let the rest of the room shine. With these ideas, loft room storage storage doesn't have to be bulky…
1. Make full use of the eaves
When people are converting their loft, they often don't know what to do with the eaves. Too narrow to stand in, these areas are the perfect place to store your things, as you won't be using that part of the room anyway.
To maximise floor space, you can tuck cupboards underneath the eaves of the loft — and if you think the corners of your loft are too narrow to store anything in, think again. All you need to do is invest in a corner unit — turning that space into a convenient place to store your things.
This way, the cupboards won't take up valuable living space and will, instead, give purpose to that seldom-used part of the room. Plus, cabinets have doors. Meaning that if you're a bit messy, you can easily keep your clutter out of sight and out of mind!
If you want to create a cosy hangout for kids or teenagers, you could also line the eaves with individual sleeping alcoves for the ultimate sleepover room!
2. Build a custom wall-storage unit
Need a ton of storage space? Custom wall-storage units are definitely the way to go. These bespoke units are designed specifically for use in unconventional areas like lofts and can be fitted to the entire length of the wall to use every inch of available space.
What you need to store will determine the depth and design of the units. But by mixing cupboards and drawers with open shelves, you can create storage moulded to your every need.
For example, if you happen to own a lot of books, you'll probably want to include copious shelving in your wall-storage unit design. If you have enough clothes to open your own shop, then a built-in wardrobe might be the way to go. By using handle-less doors, you can even create the effect of a striking neutral wall.
3. Opt for sliding or folding doors
Another great tip for saving space in your loft is to opt for sliding or folding doors over hinged ones. Traditional hinged doors open inwards or outwards, meaning you have to leave a certain amount of space either side to open them freely. Having to account for this space could affect the layout of the room.
Sliding and folding doors, on the other hand, tuck away easily — making them a great space-saving addition to your loft. You could even arrange for these doors to slide into the wall. Talk about maximising space!
4. Utilise classic under-bed storage
What do we all do when our room is untidy, and we need to hide the mess out of sight quickly? Shove it under the bed, of course! More than just a "quick-fix", under-bed storage is a great solution for making the most of small spaces. After all, it's not like you'll be needing that space for any other purpose.
If you plan on using your loft as a bedroom, it's well worth investing in a bed frame that comes with built-in drawers underneath. Some beds even lift up to reveal the storage space. This can be handy for storing blankets and linens — and you'll be surprised at just how much you can fit in!
"Loft rooms are often a real challenge when it comes to storage — thanks to beams, sloped walls and a range of ceiling heights. Luckily, we love a challenge at The Loft Room. It just takes a bit of thinking outside the box."
Rich Conlin, Managing Director at The Loft Room.
Contact us today to see what we can make out of your loft space. In the meantime, check out our gallery for loft room ideas and inspiration.
Loft storage FAQs