A simple guide to loft conversions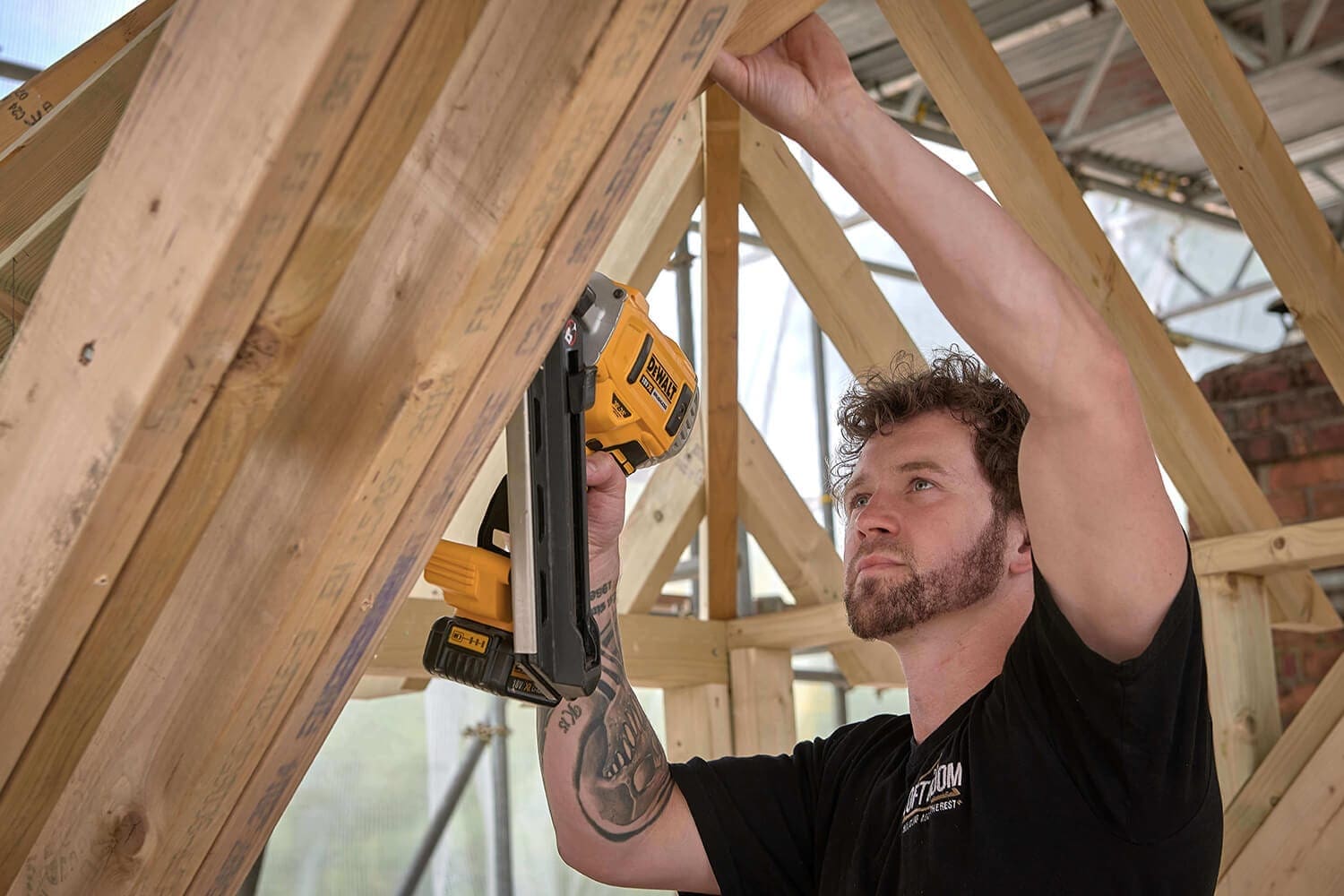 Given the inconceivable costs of moving to a new house, it's no wonder that so many families opt to convert their loft instead.
Whether you're after a grand master bedroom, a cosy study or a playroom for the children, an attic conversion can easily and quickly add much-needed space to your home — without the extortionate costs or stress of moving. Plus, it will add serious value to your property if you eventually do decide to sell it.
However, there are a lot of seemingly complicated steps to getting your loft converted and knowing where to start can feel a little daunting. So, before you forge ahead with your project, we wanted to provide a simple outline of what to expect before, during and after your loft conversion.
Where do I start?
Before getting started, there are a few crucial questions you need to answer. First and foremost is: can my loft be converted? The good news is that nearly all lofts are suitable for conversion!
Minimum head height of at least 2m is usually stipulated, but if your loft has less headroom, all is not lost. Contrary to what many people think, you don't need a cavernous attic to work with. It just means more complex building work will be required to create your dream space. But don't worry — a good loft conversion specialist should be able to come up with an imaginative solution to make it work.
To check if your loft space meets the minimum head height, just take a tape measure and run it from the floor to the ceiling at the tallest part of the room. While you're up there, it's also worth checking what type of roof you have. Rafters run along the edge of the roof and will leave most of the triangular space below hollow. Trusses are supports that run through the cross-section of the loft. It's possible to convert a loft with trusses, but you'll most likely need some extra structural support.
What type of loft should I go for?
When it comes to deciding on your loft type, there are plenty of options. The one you choose is likely to be determined by several factors, including the type and age of the house you live in, the space available and your specific requirements and budget, as well as planning regulations. Every home is different and unique, which is why one type of attic conversion doesn't suit all.
Will I need planning permission?
Most houses will come with an allowance for permitted development, meaning you can go ahead with your conversion without planning permission. However, if you live on designated land or own a listed property, you may not be covered by permitted development.
It's well worth seeking the advice of an experienced loft conversion company which can help put the correct paperwork together and guide you through the process. You will also need to consider whether your loft conversion project is subject to The Party Wall Act 1996 under which you must give adjoining owners notice prior to any work taking place.
How do I know which loft conversion company to choose?
When hiring someone to undertake your loft conversion project, it's always best to start with recommendations — from friends, family, neighbours or online review sites. A reputable company which puts customer service above all else will be more than happy to show you examples of their work. Some may even be able to organise visits to previous customers' homes so that you can speak to them directly about their experiences and see the completed loft conversions up close.
It's also a good idea to get at least three quotes for the work that you're planning. Just be sure to factor in recommendations and your gut feeling, as well as price. Once you've chosen a loft conversion specialist to go with, make sure your contract or agreement includes a price guarantee that means the contractors can't put the price up during the refurbishment for promised works.
What happens during a loft conversion?
 Once the plans have been decided and the quotation approved, the real fun begins with the design and build stage of the process! Most loft conversion projects will take between six to 12 weeks to complete, and many people are understandably worried about the impact the works will have on their life and home. But compared to other types of extension, a loft conversion actually causes very little disruption — so there's no need to move out while the works take place!
Most loft conversion companies are also fully aware of how disruptive it can be having invasive builders traipsing through your home, which is why they carry out builds from the outside-in — working from scaffolds to guarantee minimal interruption to your home life.
What happens after a loft conversion?
Your builder will compile a snagging list for you and check everything is completed to your expectations. Then, it's time to get decorating!
A good loft conversion company will include a free decoration service as part of the overall project. This is your opportunity to put your stamp on the space and make it feel part of your home. Don't worry if you're unsure of exactly what you want, though — a specialist will be able to offer valuable suggestions to help steer you in the right direction.
At The Loft Room, we're proud to have hundreds of 5* reviews and the fact that 70% of our work is achieved through recommendations. We can also arrange viewings with our previous clients, who will show you around their stunning new loft conversions themselves. Want to take a closer look? Check out our video gallery or Instagram for inspiration.
If you're unsure where to start on your loft conversion journey or need support on your current one, please feel free to contact one of our friendly team today!