Delving into Hip to Gable Loft Conversions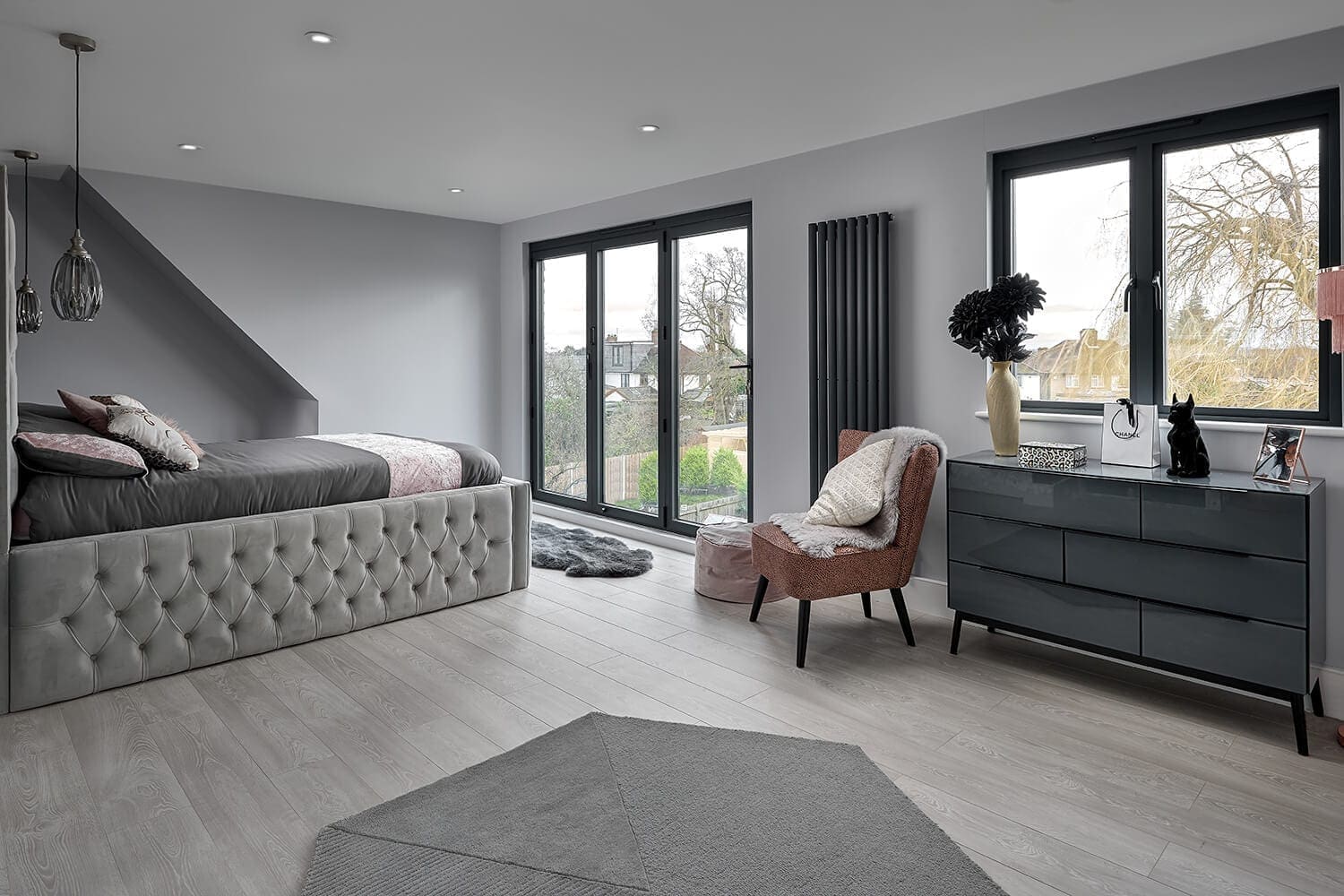 Is your loft a hoarder's heaven, full of long-forgotten items collecting dust? Maximise the potential of your home with a loft conversion!
There are many loft conversion types to suit the needs of every home and its owners — but which type is the right fit for you?
Amongst the main conversion types — such as a Mansard loft or L-shaped and rear dormers — a hip to gable conversion is a unique way of investing in your home and making the most of your space.
The advantages of a hip to gable loft conversion
Does your home have a hipped roof, leaving you with limited loft space?
Many properties, commonly semi-detached houses and bungalows built from the 1930s to the 1950s, have more complex pyramid-shaped roofs with additional roof slopes instead of gable end walls.  A hipped roof typically shrinks the usable floor area — which is where the hip to gable loft conversion comes in…
When creating a hip to gable conversion, you build the bottom of the side slope up vertically and extend the existing ridge to create a gable end. This addition increases your existing loft space immensely, often providing room for the new stairwell.
Combining this with a dormer extension could add an extra bedroom and bathroom and drastically add to the size of your home. This combination is popular in London, where building out is far less possible than building up. Hip to gable conversions are also a continuation of your home, so the aesthetic of your building should not be compromised.
Not only does a loft conversion like this increase your living space, but it can also increase the value of your home by as much as 20%. With the property market continuing to spiral, improving your existing home and utilising your space may be more beneficial. If the time comes when you decide to sell your home, this unique feature will drive up interest and value.
Considerations of a hip to gable loft conversion
Hip to gable conversions are a fantastic way to add headspace to bungalows, semi-detached and detached homes.
However, these types of conversions are not the cheapest option and are not possible on a mid-terraced home as they have no sloping side. In this case, it is worth considering other options — a rear dormer loft conversion, for instance, may be a better fit for your home.
Additionally, before your project can begin, you will need to observe a few procedures to ensure your loft conversion complies with guidance from your local planning authority.
If your property has permitted development rights, you can usually build a hip to gable conversion under a Certificate of Lawfulness. Otherwise, you will need to obtain planning permission and cannot start work until approval has been granted. Once your application is validated with the council, your conversion can be underway in a matter of weeks.
Experienced surveyors will also need to assess your property to determine its suitability for a hip to gable conversion and the building and planning regulations it must conform to throughout the loft conversion process. Additionally, if you own a terraced or semi-detached property, you must inform your neighbours and secure consent for the work ahead, as per the Party Wall Act 1996.
At The Loft Room, we have heaps of experience creating beautiful, bespoke hip to gable loft conversions that have breathed a new lease of life into our customers' homes. With no shortcuts taken and a smooth, simple process, we can turn your dream conversion into a reality.
Does a hip to gable conversion sound like the right fit for your home? Get in touch with our team of specialists at The Loft Room today at 0800 002 9291 or email info@the-loftroom.com.